Nolan Bushnell Co-Founder, Atari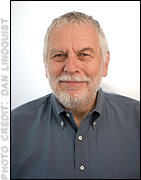 Nolan is considered one of the pioneers of the video game industry. Nolan developed the first coin operated game (Computer Space), as well as Atari's popular debut game, Pong. Nolan also founded Chuck E. Cheese's, a game centric restaurant chain. He is the author of Finding the Next Steve Jobs. He and his partner Al Alcorn gave Steve his first job at Atari before Steve started Apple Inc. in 1976.
Nolan speaks with Jessica about how he launched Atari, from scratch.