https://www.indiegog...dheld-console#/
THE 64 ™ – Our version of the global bestselling Computer is here!
THE 64 ™ is here and has bought it's handheld cousin along for the ride! The world's bestselling single computer model has been reimagined in both computer and handheld console versions!
THE 64 ™ is an exciting and respectful re-imagining of the original home computer, the Commodore C64. Developed using the latest (old) technology, the highly passionate team behind THE 64 ™ is excited to bring you not only a classic desktop version of THE 64 ™ but also a brand new handheld version meaning classic gaming, on the go!

THE 64 ™ computer console will come bundled with a joystick, a selection of classic games and also some brand new content which will be exclusive to this launch version of THE 64 ™ computer console.
THE 64 ™ project is being designed, built and marketed by a team of people who are utterly passionate about the Commodore 64 ™ and retro gaming. The team were previously involved in bringing to market consoles and products such as the C64DTV ™, and the Nintendo Wii ™ C64 ™ games.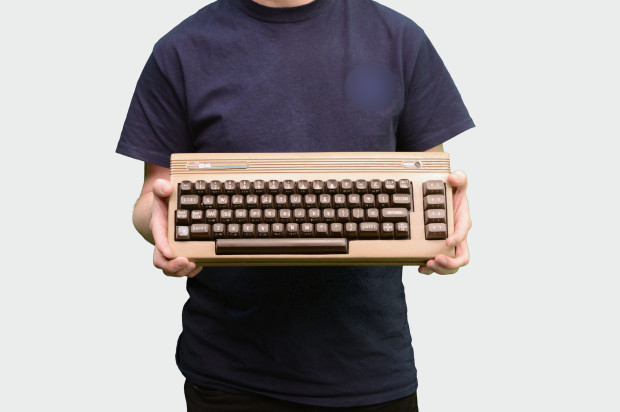 (Scale model of THE 64™ shown in photo)
THE 64 ™ is being designed and developed by a team led by a world class software and hardware engineer. He is aided by a technical team from around the world.
THE 64 ™ project is headed up by video game industry veteran Darren Melbourne who conceptualized and bought to market the C64DTV ™ console as well as dozens of other game related products during a video games career that has spanned over thirty years.
THE 64 ™ gaming team is built around a group of people with many years of games creation and intellectual property licensing experience! The foundation of the team is their love of the Commodore 64 ™ and it is this passion that shines through with the creation of the games software for THE 64 ™. Key team members are also integral parts of the C64 ™ community, working tirelessly to preserve and maintain the C64 ™, keeping the scene vibrant and alive.
This Indiegogo campaign is intended to raise the necessary funds to manufacture the first production units of THE 64 ™ which will be shipped to the backers of the campaign., The campaign will also enable us prepare us for the global retail production launch of THE 64 ™
By supporting this project it will allow you to be one of the first to own one of the new THE 64 ™ consoles. All backers who have pledged for one of the consoles can choose to receive one of THE 64 ™ range (computer or handheld) from our first and numbered production run. Backers of this campaign are also ensuring the continued existence and survival of the greatest home computer of all time.
There is also an exciting range of other THE 64 ™ campaign backers perks, including: signed limited edition concept art originals, posters, limited edition chrome computers, and even getting your name on the PCB!