EPISODE 09: Chip's Challenge
---
#PA2028, Published by Atari Corp.
Here I cover one of the best-known games of all time,
Chip's Challenge
, released in September of 1989; it is one of the five launch titles for the original Atari Lynx. In this episode I've included a complete survey of the credits, gameplay, music, and sound effects for
Chip's Challenge.
 Plus, as usual, I have reviews, listener feedback, current prices, some trivia, and some fun facts about the game. So grab a bag of chips and munch down while you listen; this game is a real puzzler!
CHIP'S CHALLENGE VITAL STATISTICS
Release Date: September of 1989
Initial retail price: $34.95
Cartridge: 128kb stereo cartridge available in all three styles (flat, ridged, and curved lip)
Genre: Puzzle/maze game for one player.
Screen/playfield orientation: landscape (horizontal).
Other Ports: The Amstrad CPC (1990), Atari ST (1990), The Commodore Amiga (1990), The Commodore 64 (1990), DOS (1990), The ZX Spectrum (1990), Windows 3.x (1991) and Windows (2015).
Sequels: Chip's Challenge 2 for Windows (2015), Chuck's Challenge 3D for Linux (2014), Macintosh (2014), Windows (2014), Android (2016), iPad (2016), and iPhone (2016)
Levels: 144, plus 4 undocumented special levels.
Carton:  Full-color standard-tab regular-size carton (5 3/8" by 4 3/8" by 7/8"). There were two styles: one with the gray vertical band of Lynx font faux embossed broken x's along the right side of the carton, and one without the band.
Manual: A 24-page (including front and back covers) stapled regular-sized booklet manual in monochrome, measuring the usual 4 7/8" high by 3 ¾" wide.
Languages: As far as I can determine, the manual was available in the U.S. in an English version only.
CHIP'S CHALLENGE  CREDITS
Developer: 
Epyx, Inc.
Original Design: 
Chuck Sommerville
Art: 
Paul Vernon
Sound and Music: 
Alex (LX) Rudis
Level Design: Bill Darrah, James Donald, Peter Engelbrite, Victoria Hanson, R.G. Gowdy, Stephen Jungels, Scott Nelson, Chuck Sommerville, Pete Wierzbicki
Testing: Dung Dang, Bob Friesen, John McGowan, Tom Schumacher, Cynthia Sommerville, Glen Yamakawa, Robert Zalot
Additional Art:
Arthur Koch
Special Thanks: Steve Landrum, Robert J. (RJ) Mical, Dave Needle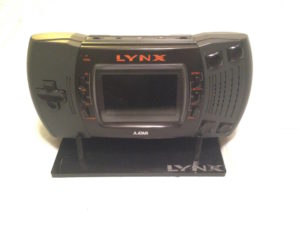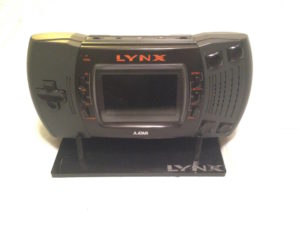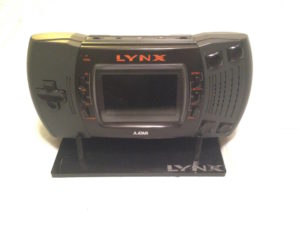 LYNXED IN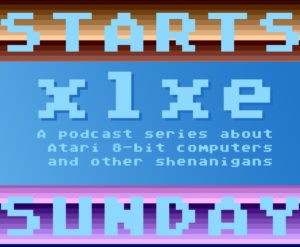 New Podcast for the Atari 8-Bit Computers!
There's another Atari podcast in town, and that town is actually in New Zealand. The XLXE Podcast covers Atari 8-bit computers and other shenanigans. It is hosted by Adam and Bob, and they're very informative and a lot of fun to listen to, especially with those funny accents. It really is great to hear a podcast about Atari from someplace other than the USA. Plus they've already got two episodes up on the feeds already. But be warned: it's not NSFW. So plug in your earbuds and give this wonderful podcast a try. You can find the podcast at their Twitter page here.

Let's All Give the Retro Video Gamer Forums Some Love!
The administrators of The Retro Video Gamer forums has sent out a call to arms to all of the retro video gaming community: I would like to appeal to those who are real retro supporters. Surely a retro forum is now a rare breed. Unless we continue to use the site [and] strike up convos, then sadly the RVG forums will continue to decline and I want to stop that. Once its gone that will be too late. So please take a moment, as I can't simply allow constant promo threads of your YouTube channels or podcast feeds (but you're more than welcome to bump them). Please put your expertise into the site; there are a million and one topics for you all to participate in so please come and keep a retro forum about your retro gaming hobby alive. P.S.: Along with the above we will be performing a zero poster cull, so any new members who have yet to do an intro thread please pop on and post one now to avoid the cull. Cheers all. So to all of my listeners, please consider supporting Eugenio, Jamie, and others at the Retro Video Gamer website at www.retrovideogamer.co.uk. Thank you!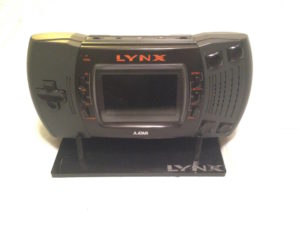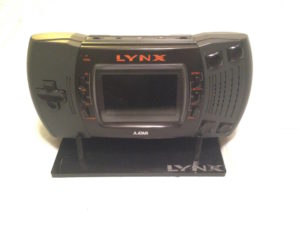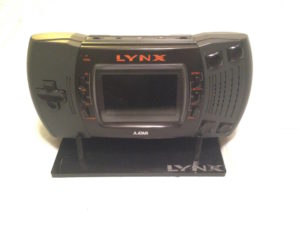 LYNX LYNKS
Information about Chip's Challenge
:
Atari Age title info/rarity guide for Chip's Challenge
Atari Gamer title info/rarity guide for Chip's Challenge
Digital Press title info/rarity guide for Chip's Challenge
Wikipedia article about Chip's Challenge
Moby Games article about Chip's Challenge
GameFAQs article for Chip's Challenge
Blogpage/map of the Final Level of Chip's Challenge at Diary of an Atari Lynx Developer
Chip's Challenge Notes, published in 1990 by Jaime Villacorte on Atari Age
"Atari Lynx Hint Book", published by Atari in 1993 for Lynx game developers (the fractal generator program cheat for Chip's Challenge can be found on pages 18-19; the codes each of the 148 levels can be found on pages 20-23)
Reviews and ratings for Chip's Challenge:
Review by Keita Iida at AtariHQ
Review by Robert A. Jung at IGN (1999)
Review by Dorsola at JoseQ'sEmuViews (2000)
Review by The Video Game Critic (2004)
Review by Avery Score at GameSpot (2004)
Review by Josh Dollins at DefunctGames (2007)
Review by Dusty Old Games (2013)
Review by Jon Mc at Atari Gamer (2018)
YouTube videos about Chip's Challenge:
Lynx Lounge Review (Brian Thomas Barnhart)
Playthrough (Atari7800com)
Playthrough and Review (Fred Rojas)
Playthrough/Easter Egg (Laird's Lair)
Playthrough/Final Level (ZoneLynx Atari)
Retailers Selling Chip's Challenge:
B & C ComputerVisions: The price lists systems at B &C crashed on 8/3/18; I will update the info here once they've been restored.
Best Electronics (last updated May 31, 2018; check website for availability): US$14.95 (CIB); US$9.95 (loose cart)
The Gamesmen (Australia): Not Available
The Goat Store: US$14.94 (NIB)
Telegames (UK): £8.33 or US$10.72
Video 61 & Atari Sales: US$24.95 (NIB)
Resources for Atari Lynx Console/Game-Related Collecting Materials/Tools:
Resource: Game Boy Color cases for Atari Lynx cartridges from Joom
Resource: 2 1/2" coin storage sheets from Amazon
Resource: Atari Lynx regular-size game carton sleeves from RetroGameFreak
Resource: Atari Lynx large-size game carton sleeves from CollectnProtect
Resource: Building a custom Atari Lynx game carton shelving unit from AtariGamer
Resource: Atari Lynx II display stand from Etsy
Other Lynks:
AtariGamer.com
(Thanks to Igor for incorporating The HandyCast into his excellent website!)
Retro Video Gamer Forums
(Thanks to TrekMD for helping to promote The HandyCast on his wonderful forums!)
Antic: The Atari 8-Bit Podcast
(Thanks to Brad Arnold, Randy Kindig, and Kevin Zavitz for the shoutout about The HandyCast in Episode 50!)
The Atari 2600 Game By Game Podcast
(Thanks to The Podfather himself, Ferg, for encouraging his listeners to check out The HandyCast in both Episode 151 and Episode 154!)
The Atari Jaguar Game By Game Podcast
(Thanks to Shinto for encouraging his listeners to check out The HandyCast in Episode 22!)
Please Stand By
(Thanks to Zerbe and Ferg for helping to promote The  HandyCast on several episodes of this fun-to-listen-to show, starting with Episode 60!)
The RCR Podcast
(Thanks to the Retro Computing Roundtable: Paul Hagstrom, Quinn Dunki, Jack Nutting, and Carrington Vance, for highlighting The HandyCast in Episode 167!)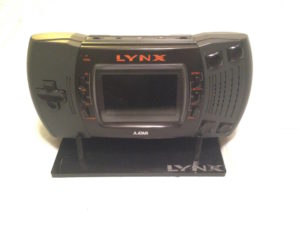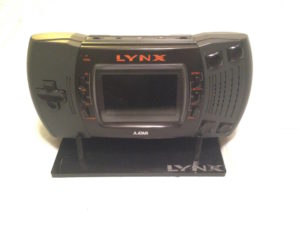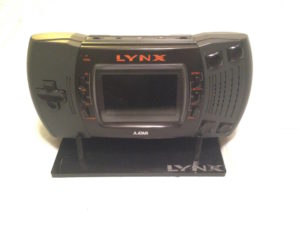 ACKNOWLEDGMENTS
Thanks go to everyone who contributed feedback about Xenophobe for this episode; I really appreciate it!
Also, I would like to thank the Free Music Archive for the following musical artists and songs that were used in this episode under the Creative Commons License: "8-Bit Core" by Tagirijus (opening and closing theme music), along with "Worm War," by Podington Bear.

I would especially like to thank Shinto for submitting his memories of various Atari Lynx games he's owned in the past to The Atari Lynx HandyCast...they are greatly appreciated. And you should all check out Shinto's wonderful Atari Jaguar Game by Game Podcast; it's definitely worth listening to, even if you don't own or have never even seen a Jaguar console. You can find it here.

Many, many thanks also go to Zerbinator for his continued support. His encouragement and expertise are very much appreciated by me. You can find all of his fun-to-listen-to podcasts here, including my favorite, Please Stand By.
Finally, my thanks to Ferg of The Atari 2600 Game by Game Podcast. His inspiration and dedication to covering every game cartridge ever made for the Atari 2600 (I think over 1000 of them!) is what gave me the courage to begin this podcast. Please, check out his don't-miss podcast, even if you're not an Atari 2600 collector; or at least visit his website here.
I hope you enjoy this episode of The Atari Lynx HandyCast. And please don't forget to visit the official Atari Lynx HandyCast website by clicking here!
-Mark

Next Episode: "EPISODE 10: Todd's Adventures in Slime World"